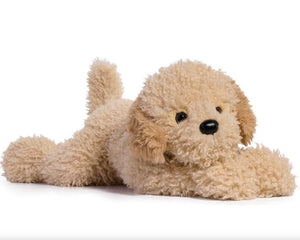 22-inch Laying Weighted Cockapoo, Poodle, Doodle, Dog, up to 7lbs
This Cockapoo/Doodle pup is so soft and adorable, with hair that feels so real!  The low profile laying position is perfect for laying on your chest, or in your lap.  At 22" long, and weighted at 6 or 7lbs for an adult, it feels just like holding a real baby!
For those who need heavier weight, we can add a 2nd casing of glass in the head and neck.  This feels amazing when you pick it up and hold the head up on your shoulder.  However, please note that this will cause the head to lay completely flat, and you won't be able to pose your animal sitting up without the head sagging.  

This pup contains a full body casing that includes the arms and legs.  We add a thin layer of poly fill around the bead casing for extra softness.