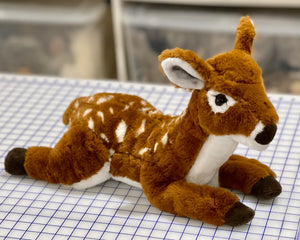 22-inch Laying Weighted Deer, Fawn, up to 7lbs
This adorable deer in a laying position is so silky soft, floppy, and cuddly.  The low profile laying position is perfect for laying on your chest, or in your lap.  At 22" long, and weighted at 6 or 7lbs for an adult, it feels just like holding a real baby!
This plushie contains a full body casing that includes the arms and legs.  
For 7lbs, we will add a 2nd casing in the neck.  This will add an extra pound and still leave room for a nice soft layer of fluff around the bead casing.